Article originally posted on www.dairylandinsurance.com

(opens in new tab)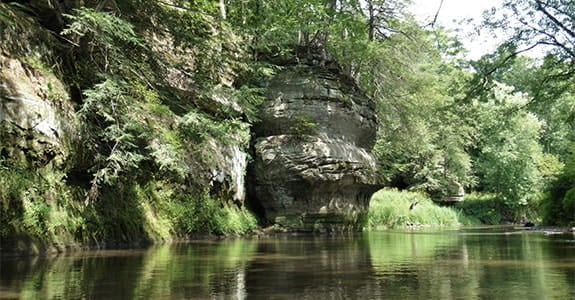 The Kickapoo River Valley takes its name from the Kickapoo River, which meanders through west-central Wisconsin. The word "Kickapoo" comes from the language of the Algonquian people, translating to "one who goes here, then there"—a very appropriate name for this very crooked river. At 126 miles long, the Kickapoo is the longest tributary of the Wisconsin River. Yet as the crow flies, the river covers barely 60 miles, doubling back on itself constantly.
If you're guessing that winding trajectory leads to an equally curvy, scenic motorcycle route, you'd be correct! Now, let's get you ready to ride Wisconsin's Kickapoo River Valley.
Navigating the Kickapoo River Valley
Our motorcycle ride route primarily follows State Trunk Highway 131 (STH-131). We'll start in the city of Tomah, at the intersection of U.S. Highway 12 and State Trunk Highway 16 (STH-16), and head south to Readstown, where STH-131 intersects with U.S. Highway 14.
Kickapoo River Valley motorcycle route
While this route is pretty straightforward, there's still plenty to see and do along the way. Use this interactive route map as a starting point as you plan your ride along the river, and don't hesitate to add new destinations as you explore the surrounding area.
Wisconsin motorcycle riding weather
Wisconsinites like to say the state's harsh winters keep the riff-raff out. That's up for debate, but one thing that absolutely isn't is the fact that Wisconsin experiences all four seasons in all their glory—which means you need to plan and prepare no matter when you ride. To help you decide when to ride the Kickapoo River Valley, here are the monthly temperature and precipitation averages for nearby La Crosse, Wisconsin.
Motorcycle safety tips
The beautiful countryside of the Kickapoo River Valley offers a peaceful escape from big city life. But this rural setting brings its own set of motorcycle safety considerations you need to keep in mind as you ride:
Expect to share the road with commercial, commuter, and tourist traffic—all of which can drive slowly and stop unexpectedly.
Watch for farm debris, loose gravel, and other surface hazards.
Stay alert for wildlife crossing the road, including deer, bears, and turkeys.
Several Amish communities make their homes in the Kickapoo River Valley, so be alert for their horse-drawn buggies and farm equipment. When approaching and passing horses, try to give them a wide berth to avoid startling them or kicking up gravel in their direction.
Stops to make near Kickapoo River Valley
There are several wonderful little towns along STH-131 to stop and grab a bite to eat and explore the Driftless area of Wisconsin. Here are three must-visit destinations:
Kickapoo Wild Adventures
The Kickapoo River is a popular river adventure destination. In the middle of the hot summer months, there's nothing like cooling off in the river. One of the most popular ways of enjoying the river is paddling.
Since you probably aren't planning to haul a canoe or kayak behind your motorcycle, take advantage of a local river adventure company instead. Kickapoo Wild Adventures is located north of Ontario, WI, and is a great place to park your motorcycle, change into some lightweight clothes, and enjoy some time on the water. They'll also give you a lift back to your motorcycle, and even hang onto your keys so you don't lose them in the river.
Wildcat Mountain State Park
The 3,643-acre Wildcat Mountain State Park offers more than 20 miles of hiking trails, an observation point overlooking the Kickapoo River Valley, and plenty of spots to stop and enjoy your lunch in the great outdoors.
Motorcycle riding in Wildcat Mountain State Park
You can also explore much of the park from your motorcycle saddle—just hop over to STH-33 and a few nearby county highways for a relaxing excursion. Start from STH-131 at the juncture with CTH-33 in Ontario. Take a left turn onto CTH-33 east and enjoy an excellent ride through changing elevation and wonderful twists and turns.
When you come to the juncture with County Road F, you've finished your ride over Wildcat Mountain. From here, you can either double back and explore the park heading north to Ontario, or take a right on CR-F, meet back up with STH-131, and keep heading south along our Kickapoo River Valley route.
Kickapoo Valley Reserve State Natural Area
If you decided to bypass Wildcat Mountain but you still want to experience the natural beauty of the Kickapoo River Valley up close and personal, just ride a few more miles south along STH-131 and visit Kickapoo Valley Reserve. At roughly 8,600 acres, this state natural area offers endless opportunities for hiking, camping, and fishing.
Dairyland® is affordable insurance that works for you.
No matter what journey you're on, we're all driving down the same road. And we're here to help protect you when you need us most. For decades, customers like you have trusted Dairyland® for:
Car insurance
Motorcycle insurance
We offer customized coverage, money-saving discounts, flexible payment options, SR22s, and outstanding customer service.
Contact Southern Trust Company today to experience the Dairyland® difference for yourself.
Filed Under: Motorcycle Tips
|
Tagged With: Motorcycle Insurance