Article originally posted on www.dairylandinsurance.com

(opens in new tab)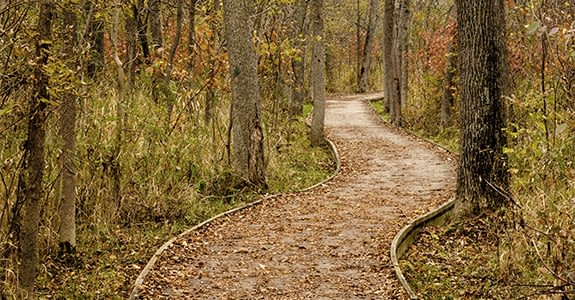 In eastern Wisconsin, an incredible landscape was created several millennia ago when two glacial lobes smashed together, resulting in what's now called the Kettle Moraine. You can experience this natural beauty along the 115-mile Kettle Moraine Scenic Drive, which winds its way south through the state. Today we'll focus on one particularly fun section of this route: the Kettle Moraine Zig-Zag.
Navigating Kettle Moraine Zig-Zag
We start our Kettle Moraine Zig-Zag on State Trunk Highway 23 (STH-23) in the town of Greenbush. You'll follow a winding—yes, zig-zagging—path south/southwest for roughly 20 miles, sticking to county and state trunk highways. The Zig-Zag portion of our route ends at the Henry S. Reuss Ice Age Visitor Center, but you can continue along Kettle Moraine Scenic Drive all the way to the Illinois border.
Kettle Moraine Zig-Zag route
Our interactive Kettle Moraine Zig-Zag route map will help you explore the Kettle Moraine State Forest and other must-see stops along the way.
Kettle Moraine Zig-Zag riding weather
Wisconsin is beautiful all year round, but some types of weather are far more conducive to motorcycle riding than others. To help you plan your ride, here are the monthly temperature and precipitation averages for nearby Fond du Lac, Wisconsin.
Motorcycle safety tips for the Kettle Moraine Zig-Zag
As you ride the Kettle Moraine Zig-Zag, be prepared for changes in elevation and wonderfully curvy roads. Here are a few safety tips to keep in mind:
Kettle Moraine Scenic Drive can challenge tourists due to its frequent curves, stops, and road changes. Be alert for sudden stops and longer-than-usual pauses at intersections.
You'll travel through forests and farmlands. Watch out for animals along—and on—the road, including deer, bear, and turkeys.
Watch for surface hazards like dirt, loose gravel, and downed branches. Keep your eyes focused on the road ahead, and leave the sightseeing for when you pull over.
Wisconsin roads can be icy anytime between October and May—yes, really—so watch the weather leading up to and during your ride, and be particularly careful approaching corners if you ride in winter conditions.
Stops to make along the Kettle Moraine Zig-Zag
We all know the thrill that comes with riding a winding, rural highway. But don't forget to stop and smell the roses—or, in the case of the Kettle Moraine Zig-Zag, enjoy a little history and natural beauty. Here are three stops to get you started:
The Wade House
A former stagecoach inn from the days before the railroads, the Wade House is listed on the National Register of Historic Places and is the focal point of a 240-acre open-air stagecoach and carriage museum. Along with the inn, you can enjoy some great food at the onsite restaurant and join a group tour of the grounds.
Parnell Observation Tower
The Parnell Observation Tower is the highest observation point in the Kettle Moraine State Forest. At a height of 60 feet, the rustic wooden tower can offer you up to a 25-mile view on a clear day. The tower is accessible via a 3.5-mile loop trail, so pack some good hiking shoes and make sure to bring plenty of water and a snack along with your camera.
Henry S. Reuss Ice Age Visitor Center
If you want to get a better understanding of the Kettle Moraine area, the Henry S. Reuss Ice Age Visitor Center is the place to visit. The exhibits explain the area's glacial legacy and provide information about the unique landforms in the Kettle Moraine. Here you can also learn about recreational opportunities in the area, including the Ice Age National Scientific Reserve and the almost 1,200-mile-long Ice Age National Scenic Trail.
Related links
Before you set out to explore the Kettle Moraine Zig-Zag, be sure your Wisconsin motorcycle insurance policy meets the state requirements.
If you're waiting to explore Wisconsin's roads in warm weather, you might have your bike in storage for months at a time. Here are some tips for storing your motorcycle in winter.
The general information in this blog is for informational or entertainment purposes only. View our blog disclaimer.
Dairyland® is affordable insurance that works for you.
No matter what journey you're on, we're all driving down the same road. And we're here to help protect you when you need us most. For decades, customers like you have trusted Dairyland® for:
Car insurance
Motorcycle insurance
We offer customized coverage, money-saving discounts, flexible payment options, SR22s, and outstanding customer service.
Contact Southern Trust Company today to experience the Dairyland® difference for yourself.
Filed Under: Motorcycle Tips
|
Tagged With: Motorcycle Insurance