Article originally posted on www.dairylandinsurance.com

(opens in new tab)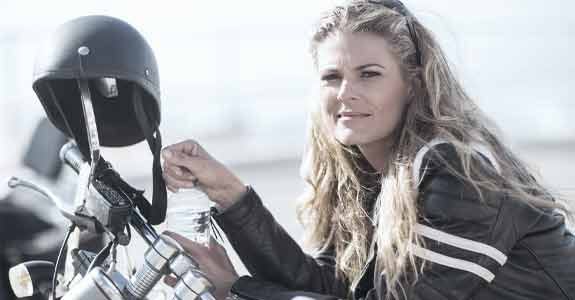 Some of the hottest days of summer are at the end of the season right before fall. Still, there's plenty of time for a long road tour or ride to a distant motorcycle rally. Even if you stay close to home, you can spend many hours riding. Racking up all of those miles in the sun does present some safety challenges—namely dehydration. There are ways to avoid dehydration, but it's important to understand why it's dangerous and some of the ways to identify if you're reaching dangerous levels of dehydration.
Understanding dehydration
Dehydration occurs when we lose more water than we're taking in. Along with water, we also lose essential salts known as electrolytes. When we're fully hydrated, our bodies maintain a delicate balance of essential salts and fluids in our cells, organs, muscles, and bloodstream. We consistently lose water and electrolytes through normal bodily functions, such as sweating and using the bathroom.
Identifying the dangers of dehydration
By the time you feel thirsty while riding, you're likely starting to become dehydrated and your ability to concentrate and physical skills could also be declining. All can lead to several dangers on the road:
Reduced visual scanning for hazards
Impaired judgment
Reduced fine muscle control
Increased reaction time
Diminished balance
Numbness and loss of sensitivity in hands and feet
Severe muscle cramping in arms and legs
Lapses in attention to traffic and road conditions
Faintness
There are some dehydration warning signs you can watch for when riding this summer. Bear in mind that these signs and symptoms can be mild at first, and it's important to recognize them before they harm you. Here's what to watch for:
Dry mouth
Dry eyes
Increased thirst or an unusual lack of thirst
No need to urinate
Headache
Anxiety
Irritability
Fatigue
Sleepiness
Lightheadedness
Dizziness
Confusion
Muscle cramps
Tips to avoid dehydration
The best way to avoid dehydration is to maintain a good fluid balance that includes the vital salts and electrolytes you need. Here are 5 tips to help you stay hydrated during your motorcycle adventures:
Drink plenty of water: Building water breaks into your road stop routine will help you make sure you stay hydrated all day long. Try drinking half of a 16-ounce water bottle before donning your helmet at the end of the first fuel stop of the day. Then store the bottle on the motorcycle. At the next fuel stop, finish the bottle of water and then follow your fuel and rest stop routine. End each road stop with another half bottle of water before resuming riding. This should help you reach the goal of eight 8-ounce glasses of water a day.
Keep water on your motorcycle: Consider buying a water bladder that'll allow you to drink without removing your helmet. Water bladders with drinking tubes are great for full-face helmets, allowing you to have a drink when you're idling at a long traffic light or stuck in stopped traffic.
Replenish your electrolyte balance wisely: Water is only part of the solution to staying hydrated. Many sports drinks will provide you with electrolytes and minerals—including powders you can mix into bottled water. Just remember to avoid too much sugar or caffeine.
Eat fruits and vegetables: We all like to grab a quick snack at gas stops. A good plan is to choose water-rich foods like fruits and vegetables instead of chips. Some foods like bananas and oranges also provide a natural source of needed nutrients and vitamins. Salads and vegetables are also good choices at mealtime and will help you maintain your hydration.
Avoid alcohol: We all know to never drink and ride. However, drinking at the motel after the bikes are parked and locked for the night can affect your hydration on tomorrow's ride. So, when you celebrate with your riding buddies at the end of the day, moderation will serve you well the next morning.
Safely riding a motorcycle requires mental skills, alertness, and concentration. By taking the time to maintain your fluid levels, you'll ride at your best and have the motorcycle riding adventure you're looking for.
Till next time, ride safe!
Related links:
If you enjoyed this piece on motorcycle safety, we have other motorcycle safety tips featured in our Safety section.
Want a little extra protection for incidentals while enjoying the ride? Trip interruption is just one of the many motorcycle insurance coverage options we offer.
Be protected while you ride. Learn about roadside assistance and how it can keep you on the road if trouble happens.
Dairyland® is affordable insurance that works for you.
No matter what journey you're on, we're all driving down the same road. And we're here to help protect you when you need us most. For decades, customers like you have trusted Dairyland® for:
Car insurance
Motorcycle insurance
We offer customized coverage, money-saving discounts, flexible payment options, SR22s, and outstanding customer service.
Contact Southern Trust Company today to experience the Dairyland® difference for yourself.
Filed Under: Motorcycle Tips
|
Tagged With: Motorcycle Insurance, Personal Insurance