Article originally posted on www.dairylandinsurance.com

(opens in new tab)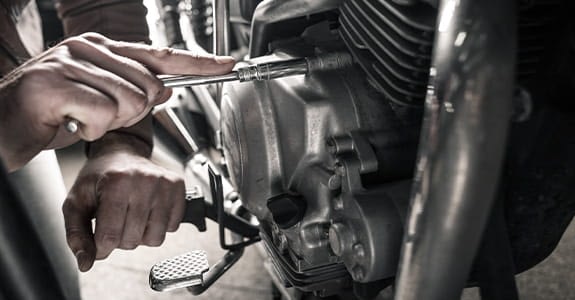 We motorcycle riders develop a special relationship with our bikes. Our passion for riding often naturally evolves into a desire to become involved in maintaining our bikes. The pride and empowerment of maintaining your motorcycle not only improves your riding experience, it extends out to other parts of your life. If you're starting out on the road of DIY motorcycle maintenance, you need to gather some basic motorcycle tools.
In this post, we'll focus on helping you gear up to perform the most common motorcycle maintenance tasks. With just these tools and the owner's manual or service manual, you can maintain your tires, change the oil and filter, replace bulbs, adjust your final drive chain or belt, and keep your motorcycle in good condition.
Tools are investments that pay for themselves over time. Expect to spend $100 to $300 or more if you move on to advanced motorcycle repairs. Don't be put off by the cost of tools; you don't need to buy them all at once. Since you're just learning, you can add tools as you learn a new type of maintenance. Let's start by discussing the most common tools for motorcycle maintenance tasks.
1. Tire pressure gauge
This may be the most important tool for your motorcycle maintenance toolbox. Proper tire inflation is critical to the safety and performance of your motorcycle. The two small contact patches we ride on provide our connection to the road. These palm-sized sections of the tire thread handle all the forces of acceleration, braking, and leaning.
There are many types of tire pressure gauges available, from the inexpensive pencil style to precision analog or digital professional gauges. Ultimately, more precision is better. While high-quality gauges can be expensive, they're a wise investment; however, you need to factor the cost into your decision. There are a few other factors to account for when choosing a tire pressure gauge for your motorcycle:
What's the highest pressure your motorcycle's tires are rated for?
What's the angle and clearance for access to the air fill valves?
Do you want a stand-alone gauge or one that is also an inflator for use with a compressor?
The right gauge is one that's easy to use so you can check tire pressure before every ride. Over time you'll get longer service life from your tires, offsetting the initial investment cost. Plus, your safety is priceless!
2. Tire inflator or compressor
So you have your gauge and it tells you the tire pressure for your bike is low. Now what? The cheapest option is to buy a tire inflator that provides enough pressure to fill your tires to ideal inflation. A more expensive—but more useful and longer-lasting—option is a compressor that can not only inflate tires, but also provide power for air tools and motorcycle lifts. You can often find sales on a compressor and a basic set of air tools.
3. Screwdrivers
A quality set of screwdrivers includes:
Flat and Phillips heads
Long and short handles and shafts
Multiple tip sizes—magnetic tips are a bonus
Additionally, angle screwdrivers can be a useful addition to your screwdriver set.
4. Fastener standards
Your motorcycle will be built with one of two primary standards of fasteners: metric or SAE (Society of Automotive Engineers). It'll always be handy to have a variety of fastener sizes when working on your ride. Note that used motorcycles and bikes with aftermarket accessories may have both types of fasteners.
5. Wrench sets
The handiest wrenches are combination wrenches. These have an open end and a boxed or closed end:
The open end applies turning pressure on the flat sides of fasteners and provides the strongest connection.
The boxed or closed end puts pressure on the corners of the fasteners, offering more angles to grab the fastener.
Another useful type is the offset wrench, which allows you to work with recessed fasteners. This old-school wrench gives you a direct connection to the fastener and a better feel for how tightly you're setting it. You can also find wrenches that have built-in ratchets. They aren't as strong or give the same feel, but they can be fast and handy.
A ratchet/socket wrench set is the most common. It allows you to rapidly change fastener sizes and get to recessed and awkwardly located fasteners. Most sets come with short and long extensions. The ratchet wrench will have a drive lug that fits into the back of the sockets and a lever to change from tightening to loosening. The most common drive size is 3/8-inch, which will cover most of your work. You can also get 1/4-inch and 1/2-inch drive ratchet wrenches. Smaller sized sockets use a 1/4-inch drive and a set should include an adaptor.
Sockets can either be 6-sided, which engages the flats of the fastener, or 12-sided (or 12-point), which engages the corners. A ratchet wrench negates the angle advantage of the 12-point box end on a combination wrench. High-quality sockets of both types work equally well; however, a 12-point is more likely to allow rounding off the corners of a fastener. 6-sided sockets are better for higher torque levels, especially when used with powered wrenches or torque wrenches. Some fasteners—like axel nuts—will be larger than the sockets included in typical starter sets, so you may need to buy individual sockets for these applications.
6. Hex keys
Hex head fasteners are common, and key sets come in a variety of forms, including metric and SAE. A good set to start with is one with basic L-shaped hex keys that includes long and short lengths. Folding multi-key sets are compact and good for portable tool kits, but they can be a compromise when applying torque. Hex keys can also come as sockets, individually or in sets.
7. Oil filter wrench
While you typically hand-tighten a new oil filter, you'll need a wrench to remove an old one. When choosing an oil filter wrench, you should base your decision on your motorcycle, its filter, and the location of the filter. These wrenches can be sockets, plier types, or even strap-style.
8. Oil catch pan
Chose an oil catch pan that can fit under the motorcycle at the drain plug and the filter location. You should be able to fit your gloved hand between the motorcycle and oil catch pan to easily remove the drain plug or filter. The catch pan's capacity should be large enough to hold more than the oil capacity of your motorcycle. Also, consider how you'll store used oil until you can responsibly recycle it—some oil catch pans double as a storage container.
9. Torque wrench
Tightness is measured in torque and all critical components on a motorcycle will have a specified torque. A torque wrench allows you to set exact torque levels. They come in different standards of measurement, including inch-pounds, foot-pounds, and newton meters. Based on the owner's manual or service manual, you can determine the appropriate measurement system to use. Like ratchet wrenches, torque wrenches come in 1/4-inch, 3/8-inch, and 1/2-inch drives and use sockets. They also come in different torque ranges, so before buying, determine what size fasteners and torque specs you need to meet. Torque wrenches are precision tools, so be sure to always read and observe the instructions that come with them.
10. Motorcycle stand
Many motorcycles only come equipped with a side stand. Some motorcycle maintenance jobs are done better and easier with the motorcycle upright, which is why center stands are useful. There's a wide selection of aftermarket stands available. Some may require you to add adaptors to your motorcycle. If you decide to purchase a center stand, be sure it's designed to work with your motorcycle. Always use caution when placing a motorcycle on a stand—improper use can lead to injury or motorcycle damage.
Conclusion
The more you practice, the easier your motorcycle maintenance will be—especially with the right tools. Not only can you save money on maintenance over time, but you'll also be more confident as a biker with better knowledge of your own ride.
Till next time, ride safe!
Dairyland® is affordable insurance that works for you.
No matter what journey you're on, we're all driving down the same road. And we're here to help protect you when you need us most. For decades, customers like you have trusted Dairyland® for:
Car insurance
Motorcycle insurance
We offer customized coverage, money-saving discounts, flexible payment options, SR22s, and outstanding customer service.
Contact Southern Trust Company today to experience the Dairyland® difference for yourself.
Filed Under: Motorcycle Tips
|
Tagged With: Motorcycle Insurance, Personal Insurance